Ramblings (FAQ)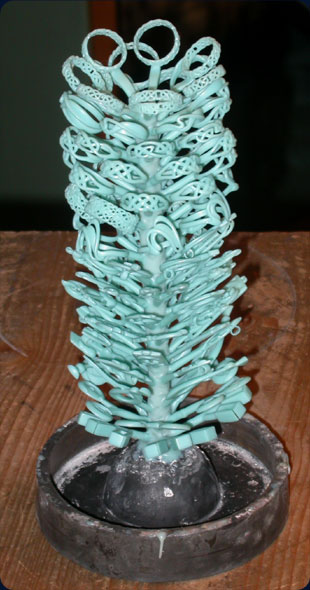 THE RAMBLINGS OF A CASTER

Average size means an average bit of jewellery; larger pieces
such as kilt pins and quaich handles take up more room in the
flask, so we charge a multiple of the basic, at our discretion.

All our castings are pin polished so they arrive to you shining(ish.)

We offer a service of grinding out the inside of ring shanks ready
for polishing. Everybody uses it.

The mould sizes we use are:
Standard: 40 x 60
Medium: 50 x 80
Large: 65 x 140
Larger than this we can do in a cold mould of any size. We
would quote for each job

We would also make cold moulds in our fixed sizes if the master
could not take the pressure of vulcanising

Multi-sprues: If the piece for casting is very small and you are likely
to need them in fairly large quantities, it's worth you while to increase
the number of pieces on the sprue. Actual numbers we decide.
To do this we need to make a second mould .
This multi-sprue is then treated as a one-off casting.

Flasks: The maximum piece we can get in a flask is 90 x 180 mm

We will send you a numbered scan of a wax from every mould we make for you, and your own moulds, for your reference.
We also keep a copy for our own records.
If you ever want your moulds back we will happily return them immediately at no cost apart from postage.

Finishing: Need your pieces finishing? Ask us for a seriously reasonable quote. Perhaps not ones and twos but at volume we're ideal. Finishing is mostly carried out by Barrel Polishing which gives a super shine to your pieces.

We also have Texturing facilities.