Next…
YOU WANT TO SEND US SOME PIECES FOR CASTING?
METAL MASTER:
Place each piece in an individual bag numbered with your catalogue number.
Put them all in a bigger bag.
WAXES:
Bag first, then pack in tissue or cotton wool.
Then box.
RUBBER MOULDS: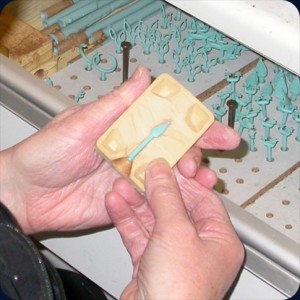 Put a rubber band round to keep the two halves together.
Make sure they have the catalogue number on them.
Then…
In each case we must have your name and address, telephone and e-mail
The numbers required of each piece
Metal required for each piece.
We have hundreds of moulds and to supply your castings quickly and easily we need to be able to identify them.
And at any time f you want your moulds back just let us know and we will return them at no cost (except postage)